The Brentwood is a good, green mattress. But the Awara beats on price, comfort, warranty, and awards.
Coming in at $400 less, with a Lifetime warranty™, and a 365 day trial, choosing Awara is a no brainer! Plus, if there's a problem with your Awara, or you decide it's not for you – we'll never charge you to return it – the same can't be said for Brentwood.
Price (Queen)
Sleep Trial
Warranty
Free Shipping
Free Returns
Setup / Removal
Latex Process
Latex Layer Height
100% Organic Cotton
Certified 100% Organic Wool fiber
Hybrid Design
Total Height
No Poly Foams
No Toxic Chemicals
Non chemical Fire Retardant SGS Certified
Non Chemical Adhesive
Water Based Alternatives
Euro Top
Pillowtop included
Awara
365 nights
Forever Warranty™
Rainforest Alliance certified Dunlop
2"
8" individual coils for premium support
10"
Brentwood
$1,499
1 year
25 years
X
Talalay
4"
X
5-zone coils
13"
X
X
X
X
Awara customers are raving: "I've been introduced to an entirely new dream world"
"THE MOST COMFORTABLE MATTRESS I'VE EVER SLEPT ON"
"I like that the materials used to make this mattress are all natural though, that's something that's important to me, so I decided to test it out.
Jenna N.
Verified Buyer
"SOMETHING ABOUT THIS MATTRESS HAS COMPLETELY CHANGED MY SLEEPING LIFE"
"Something about this mattress has completely changed my sleeping life. Not only am I getting to sleep faster, I am also staying asleep for longer and feeling way more refreshed and energized when I wake up."
Kelsie N.
Verified Buyer
Don't believe them? You don't have to.
Comfort, Luxury & Ethics - Awara's certifications simply speak for themselves
GQ Best Stuff Mattress 2022
Editor's Pick Best Latex Mattress 2022
Best Mattress Stomach Sleepers 2021
Editor's Choice Mattress 2021
Top Pick Best Value 2022
*Awara has certain affiliate advertising relationships with the above publications. Awara has no editorial influence over such reviews or awards.
Awara Out sleeps Brentwood every time
Our customers report an incredible night's sleep on their Awara. You're getting dreamy sleep, peace of mind about your environmental impact, and incredible benefits, all for $400 less than Brentwood.
One of Awara's key principles is honesty. We really believe in being as transparent with our customers as possible, which is why we leave every review up for all our customers to see. Even the bad ones. This is because we think your sleep is important, and making the right choice

for you

is what matters. Looking at the Brentwood Cedar page, we can't see any one star reviews. Every product has them, even the most perfect, so where are Brentwood hiding them?

The Brentwood uses Talalay latex, which isn't as durable as the Dunlop latex of the Awara, or as environmentally friendly since it requires extra processing. Awara's Dunlop Latex is great at contouring to your body as you sleep, and also super durable — meaning it's going to sleep the same night after night. That's perfect for alleviating tension and giving relief to aching bones.

Because of how much Awara cares about the planet, and creating sustainable products within it, we've made sure that our mattress is Rainforest Alliance certified. Brentwood can't say the same. While their products may also be sustainable and organic, they're not Rainforest Alliance certified.
Sleep isn't complicated. Awara keeps it simple
Premium, natural materials without a $400 mark-up
Looking after the planet is something we care about enormously. We all want to go to sleep at night knowing our personal choices aren't contributing to the climate crisis. However, we also think that you don't need to compromise on comfort or style to drift off every night with a clear conscience and wake up feeling restored. That's what you get with an Awara.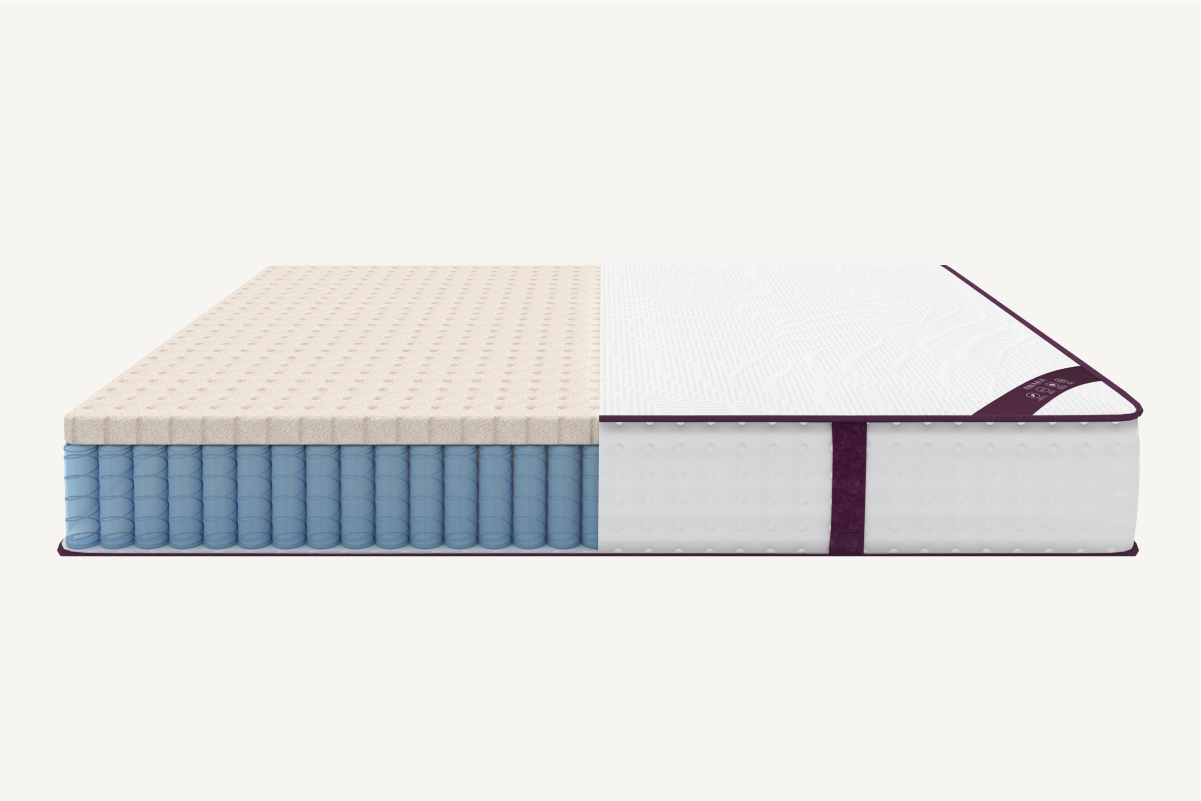 Plush Euro Top with New Zealand Wool
This plush Euro Top is covered in smooth organic cotton and cozy 100% organic New Zealand wool. So you stay cool and dry as you sleep.
Breathable Natural Dunlop Latex​
4 inches of Rainforest Alliance certified natural Dunlop latex contours to your curves and supports pressure points and joints.
Premium Coil Support Core
Individually wrapped 9" coils improve breathability and reduce motion transfer. Even if your partner tosses and turns.
Easy-Move Base with 4 Reinforced Handles
A beautiful cotton blend cover wraps this supportive base. Plus 4 sturdy handles to make any move a breeze.
GOTS Certified Organic Cotton Cover
Organic is great! We match here.
Alpaca is nice, but the New Zealand sheep we get our wool from make some of the best wool in the world.
GOTS Certified Organic Cotton Batting
This cotton batting is what Brentwood use instead of a plush wool filled Eurotop. They're mixing cotton batting and alpaca wool - where we use 100% organic new zealand wool. It's no contest.
1.5 inch of Articulated & Zoned GOLS Certified Organic Latex
Zones latex can be good if you really need it - but most of the time it leaves you with your hips sitting high on the mattress, and the rest of you sinking in..
8-inch Individually Wrapped Support Coils
A whole inch less than Awara.
1/2-inch of Coconut Husk Support Layer
More money. Fewer Benefits.
Awara and Brentwood Cedar are evenly matched in terms of height, materials, and environmental consciousness. So, why is the Brentwood Cedar $400 more than the Awara? 
At Awara, our mission has always been to make your environmentally conscious & dreamy night's sleep as accessible as possible. Enjoy a longer warranty (forever) on the highest quality natural materials.
The quality of our partnerships and materials give us the confidence needed to offer a Forever Warranty™ on every mattress. Because while 25 years is okay for the Brentwood, forever is better, and we're sure our materials will pass the test of time.

Brentwood tries hard to give back by planting 1,000 new trees in the USA. However, Awara's partnership with Trees for the Future provides families with sustainable food sources, livestock feed, products to sell, and ultimately can lead to a 400% increase in their income in four years. It's a human-centric approach to an environmental problem that ensures both sides of the equation are taken care of. At Awara we want to make sure everyone is taken care of.

Awara also takes care to ensure that it uses incredible quality materials that are certified, so that you know exactly what you're getting. Awara mattresses are also free from petroleum-based polyurethane foams, chemical adhesives, chemical fire retardants (uses a non-chemical retardant certified by the SGS), and memory foams, and use only 100% organic cotton and Certified 100% Organic Wool fiber from New Zealand. Brentwood might have organic cotton, but their certifications just don't stack up compared to ours.
Sleep well, knowing you're doing good for the planet
Awara: Good for you. Good for the environment.
"Something about this mattress has completely changed my sleeping life."
Awara supports your body, your conscience, and your favorite sleep-style.
Hybrid mattresses are a little different to Memory Foam. They are a little firmer: instead of "sinking in", you settle down, and the mattress supports every curve.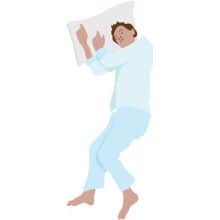 If you sleep on your side...
The latex layer removes the pressure from your joints, hugging your hips, knees and shoulders.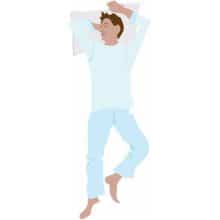 If you sleep on your back...
Awara adjusts to the curve of your lower back, relieving strains.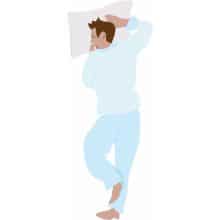 If you sleep on your stomach...
Your chest, stomach and hips get the support they need without "sinking" into the bed.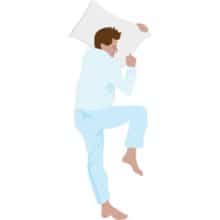 If you move during the night...
The hybrid design isolates movement so you don't wake yourself up as you shift from pose to pose.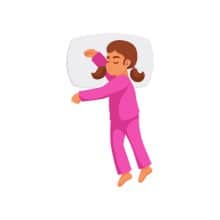 If you're on the smaller side...
The 3-zone coil system evenly distributes your weight and supports your frame.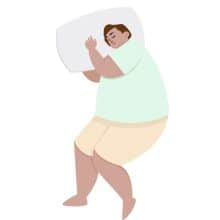 If you're on the bigger side...
The 3-zone coil system evenly distributes your weight and supports your frame.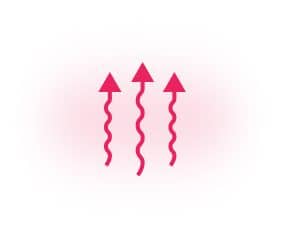 The natural materials help the mattress "breathe", controlling the temperature all night long.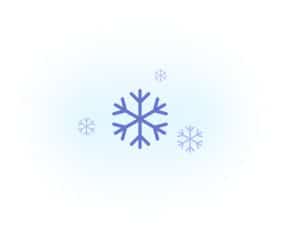 The natural materials help the mattress "breathe", controlling the temperature all night long.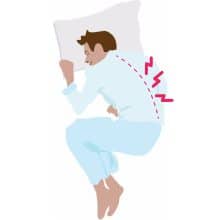 The combination of coils, latex and wool relieves pressure and supports the spine.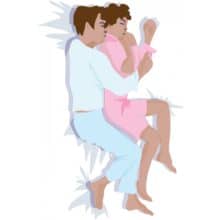 The smart weight distribution means you won't be disturbed, even when your partner moves.
Awara uses outstanding environmentally friendly materials, is involved in preserving natural habitats, and charges you less for an incredible night's sleep. Sounds like a clear winner to us.